Osiris Ranebo
Tinite High Priest
Osiris Ranebo was born the son of a humble dirt farmer in the rural farming country in western central Washington State on March 16, 1961. His family and upbringing were typically dysfunctional and not very out of the ordinary. His parents divorced early, he spent some time living with his mother in Texas, a circumstance which scarred him for life, and he also spent some time living with his father in Federal Way and Puyallup, Washington, which further eroded his already tenuous sanity. By the year 1980, He was ripe for the Teachings of Tina Chopp.
Osiris was a student of Western Washington University in 1979. He lived in a dormitory called Ridgeway, a collection of buildings named after letters of the Greek alphabet. Osiris was uniquely special that year because his room in the dormitory was directly below the room inhabited by a woman he would never meet. A woman named Tina Chopp.
In the winter of the year 1980, in the early parts of the school year, Osiris moved into another dormitory at Western Washington University called Buchannan Towers.

Osiris Sacrificing his Vegetables

He was ultimately to share this room with Guido DeLuxe, an aspiring seminary student who he had known vaguely the year before. DeLuxe had been sharing the dorm room with another WWU student,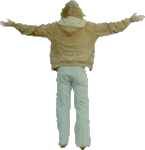 Osiris Ranebo
Beloved of Ebeneezer

Jaymes D. Fyrr, who had dropped out of school and taken a job at a newspaper in a different city. DeLuxe was in need of a roommate, and Ranebo needed a room. The University took care of the rest. It was during the following year that Osiris Ranebo and Guido DeLuxe became acquainted with and subsequently disciples of The Prophets of Tina and The Holy Snake, Ebeneezer Squeezer.

In the beginning, The Doctrines of Snake Destiny were shared only by The Prophets and their disciples, but Ranebo and DeLuxe were eager to share their vision with the world. It was Osiris Ranebo, the disiple charged with feeding The Holy Snake, who instituted the practice of Holy Vegetable Sacrifice in Tina's Name as a rememberance of Tina and works done by The Holy Snake, under the guidance of The Prophets. Ranebo and DeLuxe proceeded to outline the formation of a Church, which was presented to, and approved by The Prophets and The Holy Snake Himself. Ranebo and DeLuxe then proceeded to transcribe The Teachings of Tina and The Doctrines of Snake Destiny which had been taught to them by The Holy Snake and The Prophets, which were then compiled into The Books of Tina.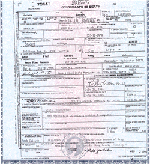 Osiris' death certificate. Click for a large (1.2mb) full size view.
Throughout the formation of The Church, Osiris Ranebo was a driving force. He formulated the concept for, and was the editor-in-chief and publisher of Tina Magazine, for years, the "Official Newsletter of The Church of Tina Chopp". He was also motivational in the establishment of Public Ritual Vegetable Sacrifice Ceremonies, a tradition which is carried on to this day by Rev. Guido DeLuxe.
After having experimented with heterosexuality and "traditional family values," which resulted in the birth of his daughter Naomi, and in spite of it's lack of "political correct-ness," Osiris was homosexual, and spent several years living in San Francisco during the mid-1980s where he came in contact with the virus which causes Acquired Immune Deficiency Syndrome (AIDS).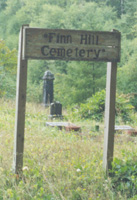 Finn Hill Cemetary
Osiris Ranebo, OHS died as a result of the effects of acute intoxication combined with the toxic effects of opiate, codeine and zolpidem on July 22, 1996. He was buried (in the "christian" tradition, thanks to his father who apparently didn't know that he was a High Priest of Tina) at Finn Hill Cemetary in a remote part of central western Washington state. His death certificate indicates that the cemetary is located in Rochester, Washington, but in reality the location is not very close to Rochester.

Osiris' grave
Osiris Ranebo was a great, if troubled man. He spent a large portion of his life pretty much doing exactly what he wanted to do without regard to the difficulties connected with doing exactly what one wants to do. He spent most of his adult life trying to convince "The System" that he didn't need such things as money or a job, and as a result ended up becoming convinced himself that he had some kind of mental disorder to the extent that he began to behave as though something was wrong with him in something more than a physical way.
Towards the end, many of his friends were alienated by his bizarre behaviour, nevertheless Osiris was a good friend and is greatly missed by all who knew him. Because of the personal problems that existed at the time between Ranebo and Rev. DeLuxe, The Church of Tina was not informed of his death by The King County Public Health Department until February 5, 1997. Thank you bureaucracy.